Seniors' Tournament
This year's tournament will be held at Greenacres Saturday Jan. 28th and Sunday Jan. 29th. Squad time for both days is 1pm.
All USBC members 50 years or older as of Dec.31st 2022 are eligable. There are 4 divisions based on age.
Mail entries by Jan, 21, 2023. Entries received after Jan 21st will pay an additional $5.00 bowler fee.
Click Here for Application
PBC Team wins USBC Tournament in Las Vegas
The members of JW's All Stars of Wellington, Florida, rolled games of 971, 1,018 and 1,143 on the way to a 3,132 total June 14 to post the top score in the Standard Team division.
Keith Bradford paced JW's All Stars with a 716 series, which included 290 in the final game. He was joined at South Point by Andrew Lawson (643), last-minute substitute Bryan Jones (615), Russell Weltzien (597) and Edwin Jawdy (561).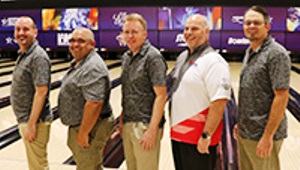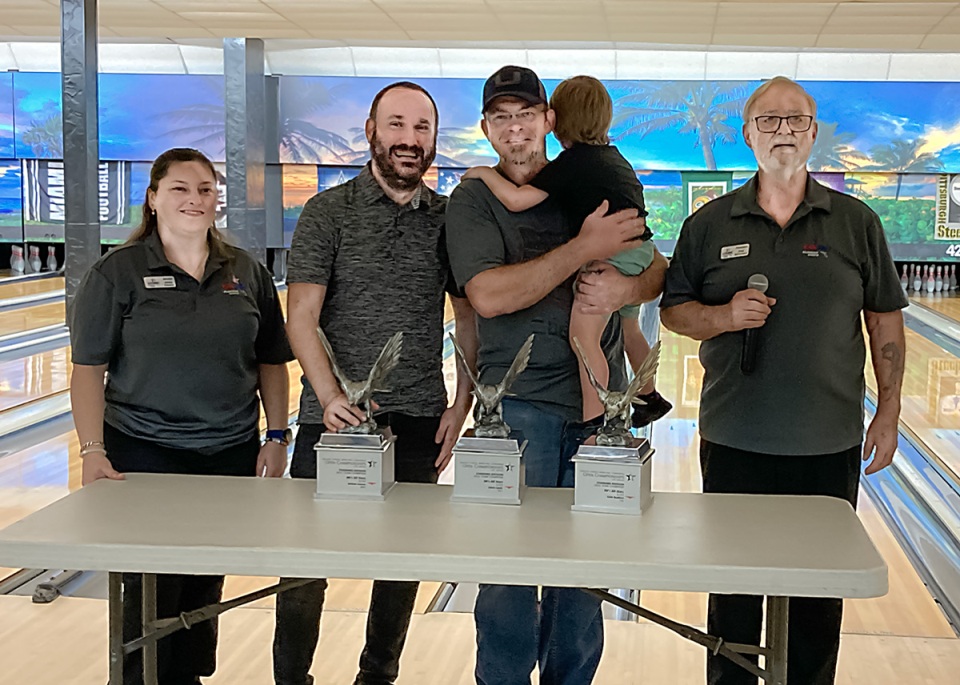 State Directors Ashley , on left, and Fred. far right, prsent Eagles to Andrew and Keith
PBC Youth do well in State Scholarship Tournament.
Click Here To see the results
PBC women placed 1st in the 2021 Florida State Seniors Women's held in Tampa Nov.6 -14.
The PBC Girls shot a score of 2786. Team member were; Fran McLeod, Carolyn McGregor, Bonita Hutson and Alisa Fischer.
Alisa placed 4th in the singles 50-64 division with a 699 series and Carolyn came in 6th in singles 65+ division with a 692 and 9th in the all events with a 2060
They didn't do as well in the recently concluded Annual Women's Tournament hosted by the Space Coast Association.
Brintney Lindley finished 51st with a 719 and Suzanne Koski- Berman finished 86th with a 704 in the singles event