Youth Scholarship Tournament
The 57th Florida State Youth Scholarship Tournament was held June 4th through the 19th.The tournament was hosted by Sarasota - Manatee USBC Association. $50,000 in scholarships was up for grabs for those who placed. PBC youth took their share of the prizes.

1st place in the singles 96 - 134 girls handicap with a 759 was Carly Perrin. Carly also came in first in the 96 - 134 girls handicap all events with a 2238. Carly bowls at Greenacres bowl

1st place in the team 379 and under handicap with a 2979 was the King Pins bowling out of Boynton AMF. The team members are Nathaniel Taveras, Roger Gramlich, Mateo Ruiz and Joshua Taveras.

Coming in 3rd in the singles 175+ handicap with a 711 was Brenna Grudinshy. Brenna bowls at Bowlaro Jupiter.
Also from Jupiter is Jake Muller. Jake competed in the boys singles 175+ and bowled a 705 to come in 17th.
Tyler Jassenoff bowled in the boys singles 135-174 division. Tyler came in 19th with a score of 724. Tyler bowls at AMF.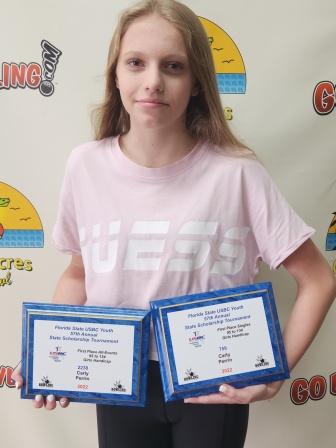 Carly Perrin
Austin Ward Receives $1000 Scholarship>
The Bob Dykes memorial scholarship is awarded to a youth bowler who is a senior in high school and has a 3.5 or better GPA. He or she must bowl in a sanctioned youth league in a house that is a member of the Bowling Center Association of Florida. Austin Ward bowls in the senior gator division of the youth league at Greenacres. $1000 will be deposited in his Smart account.

Palm Beach County USBC - Copyright 2009© All Rights Reserved