Welcome to the Palm Beach County Chapter of The USBC
PBCBA Annual Meeting
The Annual Meeting was held June 6, 2021 at 1:00pm at
Greenacres Bowl. Eight board members plus the association manager were joined by 21 bowlers to determine the structure of bowling for the 2021-22 season.
Due to increased expenses and a decrease in the number of sanctioned bowlers, the local annual dues was increased by $4.00 to $12.00. USBC dues remain at $13.00. Associate dues will be $12.00
Due to the closing of Verdes the delegation approved the reduction of board members to 9. This include 2 youth directors.
David Sharp was elected president. Shari Sapsford was elected vise president. Nelson Willis, Bill Haser, Sheryl Lewis Willie, McGriff and Craig Stimson were chosen as directors and Lolly Gruber and Jason Smith are the youth directors. They will take office August 1st.

A budget of 19,375.00 was approved. To see the line item budget Click here


Rummers are True
Verdes Tropicana will close for good June 7th. Opened in1959 by Hazel Verdes, the establishment had become a landmark for Palm Beach County bowlers. But business pressures and an offer that couldn't be refused by Enterprise Truck Rentals will reduce the once proud facility to a parking lot.
Boca to Open June 1st
Construction completed. Paperwork finished. League secretaries notified. Bowlero Boco will open for the summer season June 1st. For more information Click Here for The Web Site or call (561) 237-0322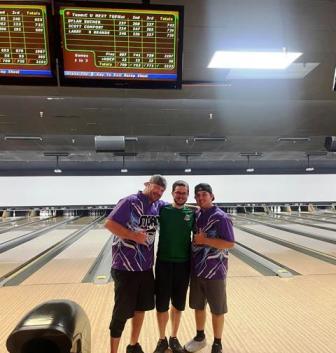 County Record Broken
Bowling in the Tuesday Nite Trios League at Bowlero Jupiter, the three man team of Larry Brande, Scott Comfort and Dylan Sucher broke the county record for a 3 person team series. The team bowled an 2197 to beat the old record by 1 pin.
Pictured from left to right, Larry, Scott and Dylan

A Future For The Sport - 2019 recap, 2020 preview
By Chad Murphy, USBC Executive Director
A message from USBC
Palm Beach County USBC
3951 Haverhill Rd N Ste 210,
West Palm Beach, FL 33417 (561) 640-4683